You need to eat bananas with creamy peanut butter.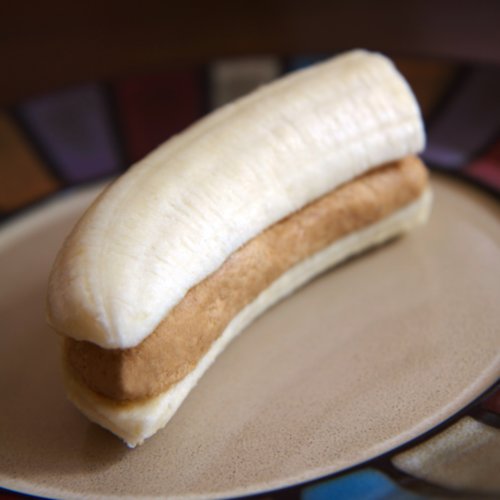 Let's assume for a moment that people take this seriously. Imagine we live in a society where bananas and peanut butter have become part of our daily nutrition, specifically where they're eaten together. You cannot eat a banana without peanut butter, although you can eat peanut butter without a banana. No, it doesn't make much sense to make this a moral imperative, but bear with me a moment. In this thought experiment, the consumption of bananas with peanut butter is a cultural more and there's no quicker way to offend someone than to deviate from this behavior.
If you don't eat bananas with creamy peanut butter you deserve to be imprisoned and punished.
You can't not eat a banana every day. You can't not eat a banana without peanut butter.
Neither can you eat a banana with anything but peanut butter, and if it's the chunky style you're in trouble. Imagine that you're told if you don't comply with this behavior you deserve to be locked away and punished. How does this make you feel? Annoyed? Perhaps even offended yourself? I happen to like a ripe banana and creamy peanut butter, but who am I to impose this preference on you? What gives me the right to pass judgment on you like this?
Now consider this argument:
It's not that I'm judging you for not eating bananas with creamy peanut butter, it's just the law that you have to. I'm simply letting you know what's going to happen to you.
That makes it all better, right? I mean, it's just about who is or isn't following the rules, right? Just because the rule is arbitrary and unreasonable doesn't make it my fault. Of course, I could reject the idea that the rule is justifiable or should be enforced given its very arbitrary and subjective nature. I could turn a blind eye to a bad law and avoid calling attention to the fact that you're not following it.
If you think this is a bad argument for imposing arbitrary morality on you, then don't try to pull it on me with your religion. I reject the assertion that I "send myself to Hell" or "deserve Hell" based on what you believe. I certainly don't appreciate you trying to convince me that I'm sick (read: sinful) so you can sell me the cure (of salvation).
Don't tell me I shouldn't be offended from being told I'm destined for Hell. You may think you're doing me a favor by warning me of my impending doom but I appreciate it about as much as you might appreciate being told you're headed to prison for failing to eat bananas with creamy peanut butter. My behavior suggests I endorse the law requiring you to be imprisoned for deviating from it, and that I have no interest in changing the status quo. Likewise, you're expressing your endorsement of Hell and everything it implies (like infinite punishment for finite crimes) by trying to sell me your beliefs.
I don't believe in Hell, and I don't appreciate the implication that I deserve punishment for the immorality you imagine of me. If that's really what you think, do us all a favor and keep it to yourself.